Toronto FC II In Town To Face Saint Louis FC
Saint Louis FC Returns To Action At Soccer Park With Friday Night Match Against Toronto FC II
It's been awhile since there has been professional soccer at Toyota Stadium at World Wide Technology Soccer Park. It's been so long, in fact, that this Friday's match between Saint Louis FC and Toronto FC II is being billed as Home Opener: Part Deux.
The rare Friday night United Soccer League match is set to kick off at 7:30 pm at World Wide Technology Soccer Park in Fenton.
A limited amount of tickets for the match are still available. Ample parking is available at Soccer Park while the complimentary Pub 2 Park shuttles will be running from various locations. Scroll down for more information.
Late Goal Means Draw With Tampa Bay
STLFC headed to Tampa Bay last weekend to play the Tampa Bay Rowdies. José Angulonetted a beautiful free kick in the 59th minute to put the away team up 1-0.
However, Neill Collin's scored on a header in the 87th minute to tie the game. STLFC would leave Florida with a 1-1 draw and a single point.
While Collins scored the equalizer off the corner kick, Joe Cole deserved an assist on the play. Had Cole not been standing on STLFC goalkeeper Adam Grinwis on the play, he may have been able to get to the ball before Collins headed it.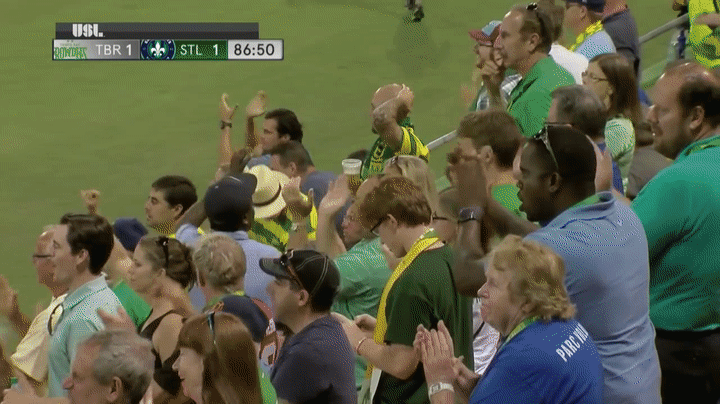 Chicago Fire Coming To St. Louis On June 14
With a 2-1 win over the Michigan Bucks of the Premiere Development Leauge last Tuesday, Saint Louis FC is through to the fourth round of the Lamar Hunt U.S. Open Cup.
Sebastian Dalgaard scored a brace for STLFC with both goals coming in the first half of play.
The coin flipped the right way for St. Louis fans and the hometown club will host the Chicago Fire of Major League Soccer on June 14. Kick off is set for 7 pm.
Tickets for the match will be available to the general public early next week at SaintLouisFC.com
José Angulo Moves Into Scoring Lead
With his goal against Tampa Bay, José Angulo moved into the team lead in scoring. He has four goals on the season, while Christian Volesky has three. The duo accounts for seven of the team's nine goals on the season.
Dane Kelly of Reno 1868 FC leads the USL in scoring with 10 goals.
Saint Louis FC Drops In USL East
Despite earning a point, STLFC dropped in the USL East standings this week. The club now sits in 11th place in the conference, out of playoff contention if the regular season were to end today. However, it doesn't. STLFC has 12 points after 9 games played. The Rowdies, who sit in second place in the East at 21 points, have played 12 matches. The Charleston Battery lead the conference with 23 points in 11 matches played.
Mark Pais Returns With Toronto FC II
A familiar face will likely be in goal for Toronto tonight at Soccer Park. Mark Pais joined Toronto this season after spending the last two seasons with Saint Louis FC. The St. Louis native spent part of his college career with the Saint Louis University Billikens.
Pais has spent some time with MLS club Toronto FC this season, but is back with the USL club for now. He spoke to TFC2.ca for an article about getting to play at home this weekend. 
As when any player returns to play at home, Pais will have a large contingency of family and friends in attendance.  "I'm excited to see them," added Pais, "But at the same time, I'm there for a job. It will be all about shutting out those distractions prior to the match."
Pais has split time in goal this season with Angelo Cavalluzzo, appearing in four matches while allowing five goals and recording two clean sheets. In Toronto's last two matches, Pais has made seven saves and allowed just one goal while playing every minute in goal. Unfortunately for the Canadian side, those matches resulted in a 0-0 draw with Richmond and a 1-0 loss to Cincinnati.
Toronto FC II, also known as the "Young Reds", currently sits in last place in the USL East with a 1-6-4 record. The club has scored just three goals on the season with Luca Uccello, Malik Johnson and Ryan Teller recording a goal apiece.
STLFC's Wesley Charpie spent two seasons with Toronto FC II, making 43 appearances. Preki spent 22 games as coach of the Toronto MLS side back in 2009-2010.
Help Pack The Park
Complimentary Pub 2 Park shuttles will run from two locations within the St. Louis city limits. Amsterdam Tavern, one of the city's most popular soccer bars, has been part of the program since the team's inception. Molly's In Soulard recently signed as a sponsor of the team and is the new Soulard location for the shuttle. The other Pub 2 Park locations are Smugala's Pizza in Sunset Hills and Hotshots in Fenton. For more information on the Pub 2 Park program presented by JED Transportation and to reserve your spot on the bus, check out the program website.
Similar to Humpty Dumpty falling off a wall and having to be put back together again, Soccer Park had to be put back together again after flood waters overtook the park back in May. STLFC was forced to cancel a scheduled home USL match and this will be playing their first game at home since April 22 tonight.
To celebrate "Home Opener: Part Deux", the club is putting on a pre-game party in the parking lot. The barbecue menu will feature bacon-cheddar bratwurst, chorizo, burgers and hot dogs available for purchase. A portion of the proceeds will be donated to the St. Louiligans' designated Charity Du Jour organization for the week, Spensa. 
The St. Louligans will have their typical tailgate party in the parking lot before the game as well. With Saint Louis FC selling barbecue, the supporters' group will be selling pizza with proceeds going to Spensa. Parking lots open at 5:30 pm and the march into the match happens at 7 pm.
Speaking of those Louligans, listen to the latest episode of the This Is Silly! podcast to get in the mood for tonight's match. The latest episode was recorded live at International Tap House in Soulard during Tuesday's U.S. Open Cup game against the Michigan Bucks.
Can't get out to the park? All USL matches are streamed live on YouTube. Check below for the Saint Louis FC – Toronto FC II live stream.
But seriously, you should call 636-680-0997 or go to SaintLouisFC.com and get tickets for the match tonight.
Brought to you by
Mills Apartments